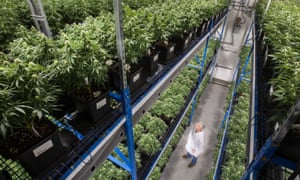 The Canadian government is scrambling to craft legislation to legalise recreational marijuana by 1 July 2018 – a move that would fulfill a campaign promise by the prime minister, Justin Trudeau.
The Liberal government will reveal the legislation in the second week of April, according to the Canadian Broadcasting Corporation, putting Canada on course to become the first G7 country to fully legalise marijuana use.
Since becoming the Liberal leader in 2013, Trudeau has spoken out about the need to decriminalise and regulate recreational marijuana, arguing that it would help ensure that marijuana is kept away from children and that profits don't end up in the hands of what he has described as "criminal elements".
Shortly after taking power, his government signalled that legalisation remained a priority, promising to unveil legislation by spring. Medical marijuana is already legal in Canada.
The federal legislation is expected to task Ottawa with licensing producers and ensuring the safety of the marijuana supply, in keeping with the recommendations of a government-appointed taskforce. Canadians who want to grow their own marijuana will be limited to four plants per household.
It will be up to Canada's provincial governments to decide how the drug will be sold and at what price.