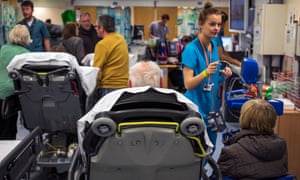 Desperate hospitals are so short of doctors they are pleading with them to take on extra shifts, with some offering up to £95 an hour to cover gaps in medical rotas to maintain patient safety.
Hospitals are so chronically understaffed they have been hiking pay rates in recent weeks and bombarding doctors with urgent emails and text messages in a bid to ensure standards of care do not suffer.
On Tuesday, Peterborough City hospital raised the pay available for working overnight that night in its "extremely busy" A&E to £95 an hour for a 10-hour shift to try to attract recruits.
"Exceptionally, we approved a maximum hourly incentivised rate for our senior trust doctors. This will ensure safe medical staffing levels and enable the department to continue to give high quality care to all our patients," said Neil Doverty, the North West Anglia NHS foundation trust's chief operating officer.
Hospitals often scramble to make 11th hour arrangements to fill rotas. Last Monday the Dudley Group NHS foundation trust in the West Midlands was forced to increase the fees for senior house officers in its A&E from £60 an hour to £70 an hour for shifts lasting 10 and 12.5 hours.
The Guardian has seen messages sent by dozens of hospitals across England and Wales to doctors which paint a picture of near panic as many of them struggle, often at the last minute, to have enough medics on duty.
Many hospitals have been struggling to find enough doctors to work over the Easter weekend, with some trying more unorthodox approaches to get staff in. West Middlesex hospital in London, which is facing problems staffing its rotas despite having a well regarded bank of staff and paying high locum rates, this week offered any doctor working over the holiday weekend an Easter egg as an incentive.
Faced with an acute shortage of A&E doctors last month, the John Radcliffe hospital in Oxford sent scores of doctors an email entitled "help!" which said: "I am sorry to be sending so many messages but I am in real need here. I am practically begging at this point. I really need some help.
"Can ANYONE help out for any length of the shifts needed this weekend? It really is a matter of keeping the department safe." The email was sent on 16 March by Brigid Greaney, the medical staffing administrator for the hospital's emergency department.