Pressure on NHS practices blamed on underfunding and Brexit fears among overseas dentists.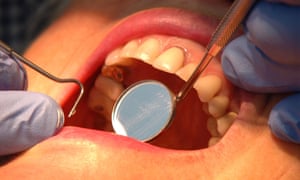 People in Cornwall face a wait of up to 18 months to register with an NHS dentist amid growing concerns that health services in England's poorest county are at breaking point.
Cornwall has a backlog of more than 14,000 people who want to register with an NHS dentist. Some residents must travel more than 70 miles to find one of the few practices in neighbouring Devon that are still taking on patients.
Practitioners said a shortage of funds was mostly to blame for the lack of NHS dental services in Cornwall and across the UK, along with the impact of the Brexit vote.
The British Dental Association, which represents dental practitioners, said: "A fifth of NHS dental services in England are being delivered by dentists who trained in the EU and overseas. The choice not to offer them any kind of guarantees ahead of Brexit negotiations raises real questions about the sustainability of this service."
It added that the challenges of providing quality care, necessary investment and coverage for vulnerable patients "require more than a bargain-basement funding model".