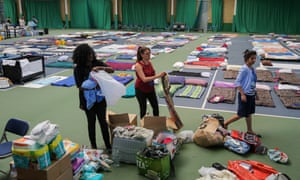 Former residents of Grenfell Tower will not be exempt from the bedroom tax and the benefit cap, the government has confirmed – although ministers have ordered that any tenants affected are prioritised for special payments to offset any losses.
Guidance from the Department for Work and Pensions (DWP) says councils should ensure Grenfell tenants hit by welfare reforms should be given so-called discretionary housing payments (DHPs) to protect them from potential housing benefit shortfalls of hundreds of pounds a month.
The government has promised that all Grenfell residents will be rehoused permanently as close as possible to their former home. This week it secured 68 social rented apartments in a new block in Kensington to provide permanent accommodation for those made homeless by the fire.
The guidance is the latest example of ministers moving to soften normal benefit rules for Grenfell residents. Earlier this week it said jobless tenants would not be sanctioned for failing to look for a job, and that a planned roll-out of universal credit in North Kensington next month would be put on hold.
A DWP spokeswoman said: "We have already relaxed benefit rules for anyone affected by the Grenfell Tower fire and our staff are handling people's claims with sensitivity, understanding and flexibility.
"As part of this, our recent guidance to local authorities is that they should treat these residents as a priority for extra payments to help with their rent if they are rehoused in a larger property."
But experts said that providing DHP support was not always a permanent solution for tenants affected by welfare reform, especially if Grenfell tenants were allocated permanent homes that were too big and unaffordable under housing benefit rules.