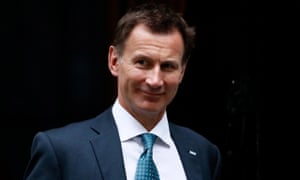 Jeremy Hunt has been accused of being "asleep at the wheel" while a private firm co-owned by the Department of Health built up a backlog of over 700,000 pieces of medical correspondence it never delivered to GPs.
The health secretary was summoned to the House of Commons to answer questions from MPs after a damning National Audit Office report found that the scandal may have harmed the health of at least 1,788 patients and had so far cost £6.6m.
Hunt said it was "totally unacceptable" and "incompetent" that NHS Shared Business Services (SBS) mislaid almost 709,000 separate items of paperwork over five years, including the results of cervical cancer tests, details of changes to patient medication, and child protection notes.
SBS, a joint venture between the DH and the private company Sopra Steria, aims to make £1bn of NHS savings by 2020 by streamlining back office and support services.
Hunt, who sits on the board of the company, told MPs in answering the first urgent question of the new parliament that SBS should never have allowed the huge backlog to build up.