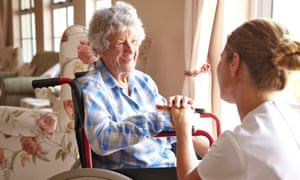 Cuts to social care will continue this year despite ministers putting in an extra £1bn to halt the deterioration in services, senior council officials have said.
Local authorities in England plan to make £824m of savings in their social care budgets in 2017-18, according to research by the Association of Directors of Adult Social Services (Adass).
Older people who rely on councils to provide personal services at home or places in care homes will be hit again as social service departments struggle to reconcile rising demand and increasing costs with limited budgets, it warns.
Efforts to keep older people healthier at home, so they avoid unnecessary stays in hospitals, will also be reduced as councils switch money from prevention work into their general social care budget.
Despite more cash from both the government and the increased 3% precept on council tax bills for social care, the system "still remains on a cliff edge" as a result of deep cuts in recent years, Adass said.
"The welcome £2bn [over three years] in funding will help close the funding gap facing adult social care, yet councils still plan to make further savings of £824m this year, which will impact on those that receive care," said Margaret Wilcox, the organisation's president.
"This is because more older and disabled people are living longer and with increasingly complex support needs, as well as financial pressures caused by the welcome 'national living wage' and other cost pressures, including emerging ones from the NHS, such as fines for delayed transfers of care."