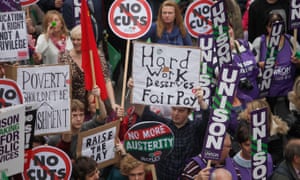 Yeah, but no, but maybe yeah eventually, but no right now. To paraphrase Little Britain's gormless teenager Vicky Pollard, that's roughly where the government stands, at the time of writing, on whether public sector workers are going to get a decent pay rise. Although by the time you read this, who knows?
Hours after suggesting on Wednesday that "we understand people are weary" of austerity and that the cap on public sector pay might thus be lifted, Downing Street was backtracking, squeaking furiously that actually nothing had changed. Yet all the time, Tory MPs were getting fat hints that, so long as they voted down a Labour amendment to the Queen's speech which called for the scrapping of the cap right now, something might well be worked out come the autumn budget.
Officially no, but maybe yeah before too long. And if Westminster is struggling to work out what all this actually means, God alone knows how teachers and doctors and police officers, and the firefighters so recently lionised for risking their lives in Grenfell Tower, are supposed to make sense of it.
Any private company that treated its staff this badly – first dangling hope and then snatching it away, all the while giving the exceedingly strong impression that its left hand had no idea what its right hand was doing – would be rightly condemned. More than that, it could expect its staff to start refreshing their CVs. Why put in the unpaid overtime for a boss who treats you in such a cavalier manner?
People need to know with reasonable certainty what they're likely to earn, so that they can plan their lives: start a family, save up for a house, take a miserably difficult decision about whether to give up a job they used to love for something better paid and probably less stressful. This isn't like U-turning over some abstract policy idea that might never have happened. It's messing with real lives, and that has consequences.
As it happens, when the news started dribbling out I was chairing a housing conference in Manchester. For two days, in virtually every session, plaintive questions about public sector pay had been creeping in; not just from local government workers presumably anxious about their own futures, but from those who see the impact on people's ability to pay the rent.
There were stories of nurses travelling two hours to work because they couldn't afford to live anywhere near London hospitals; teachers who have no hope of buying. What were politicians going to do about it? The answer, it seems, is take an already confused situation and make it more confusing.
By refusing to break ranks and vote with Labour for pay rises, Tory MPs have managed – in many cases to their dismay – to make themselves look mean-spirited, heartless and hypocritical. After all, the health secretary, Jeremy Hunt, has been openly campaigning for a pay rise for NHS staff.