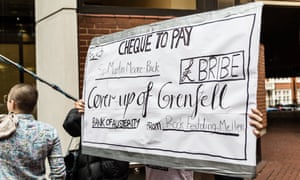 Perhaps it's because it has come to represent so much of what is broken in our society that it doesn't seem possible the Grenfell Tower fire started less than three weeks ago. In the days that have followed, our deepest divisions have played out on the streets of Kensington and beyond: rich versus poor, voiceless versus powerful, those the state protects versus those who pay its price.
And, amidst it all, growing accusations of a cover-up around a death toll that has crept up cautiously and incrementally jar against accounts of flats filled with guests breaking Ramadan fasts, and the frantic mental arithmetic employed to tot up the tower's likely occupants at 1am on a Wednesday morning.
The reasons for this, and the Metropolitan police's most recent announcement that the final death toll will probably not be known this year, are many and undoubtedly legitimate. But these things have evoked justifiable anger from residents, as noted by the Labour MP for Tottenham, David Lammy, who tweeted last week that "trust is at rock bottom in the community. Failure to provide updates of the true number that died is feeding suspicion of a cover-up."
As quickly as they had embraced survivors as passive receptacles for sympathetic platitudes, some corners of the political class took on an increasingly sneering tone as heartbreak turned to anger, and confusion to suspicion. Contempt for an angry working class returned, wrapped up in incredulity that people whose neighbours had burned to death in their homes might harbour some distrust for the state that was meant to protect them.
The idea of a "conspiracy theory" is a disparaging one, evoking images of wild-eyed outcasts rambling incoherently while polite society avoids eye contact. Nasa faked the moon landings, they might say, or Elvis Presley is still alive and wandering brazenly around Graceland; JFK's murder is unsolved; UFOs crashed in New Mexico; Bush did 9/11.