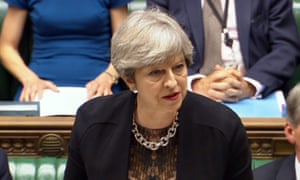 Jeremy Corbyn has mocked Theresa May's invitation to the Labour party to help create policies for the UK's future post-Brexit by offering to give her a copy of his election manifesto – and suggesting she call another general election.
Corbyn was responding to May's parliamentary statement on the G20 meeting in Hamburg, which she attended on Friday and Saturday. He expressed surprise she had so much to contribute to the summit, claiming there was barely anything on international policy in the Conservative election manifesto.
"Or indeed any policy – so much so that the government is now asking other parties for their policy ideas," said Corbyn. "So if the prime minister would like it I would be very happy to furnish her with a copy of our election manifesto – or better still an early election in order that the people of this country can better decide."
The Labour leader – who is now enjoying a solid lead in opinion polls – accused the government of running out of steam at a pivotal moment for the UK. He pointed to "uncertainty about Brexit, conflict in the Gulf states, nuclear sabre-rattling over North Korea, refugees continuing to flee war and destruction, ongoing pandemics, cross-border terrorism, poverty and inequality, and the impact of climate change".
The prime minister also came under pressure from her own backbenchers about the suggestion, expected in a speech tomorrow, for MPs across the political spectrum to come forward with their own ideas.
Desmond Swayne MP asked about the "new lovefest with the benches opposite", which he suggested was akin to making a deal with the devil. "Given the record of the leader of the opposition on the Counter-Terrorism and Security Act does she possess a long spoon?"