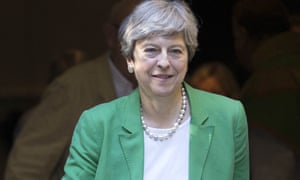 Theresa May will move to bolster her precarious position in Downing Street with an unprecedented invitation to Labour to help her create policies for a post-Brexit Britain as she attempts to quell a Tory plot to replace her.
Speaking on the anniversary of her first week in Downing Street and amid talk of a Conservative bid to oust her before the end of the year, the prime minister will on Monday seek to draw a line under a disastrous election result that saw her government lose its majority.
May will argue that her "commitment to change Britain is undimmed" and echo her speech from outside No 10 a year ago, pledging to tackle injustice and inequality as she launches a report on unfair employment practices by former Labour adviser Matthew Taylor.
The speech, which will be seen as an attempt to relaunch her faltering premiership, will then make an unusual plea for cross-party working, challenging MPs across the spectrum to "come forward with your own views and ideas about how we can tackle these challenges as a country".
"At this critical time in our history, we can either be timid or we can be bold," she will say. "We can play it safe or we can strike out with renewed courage and vigour, making the case for our ideas and values and challenging our opponents to contribute, not just criticise … In everything we do, we will act with an unshakable sense of purpose to build the better, fairer Britain which we all want to see."
Despite having taken her party backwards at the election, May will insist her vision for the country is correct, saying she is "convinced that the path that I set out in that first speech outside No 10 and upon which we have set ourselves as a government remains the right one".
Such claims are likely to be viewed with scepticism by other party leaders, given May's track record over the past year proposing an expansion of grammar schools, an end to free school meals, and means-testing the winter fuel allowance – which were dropped after the election.
She has also failed to proceed with legislation to implement radical ideas that could have been well-received by the opposition, including a plan to put workers on company boards and a cap on energy prices.
Downing Street sources said her conciliatory tone reflected pragmatism about the new parliamentary arithmetic, which gives May a slender majority only with the support of the DUP.
Undoubtedly, the prime minister will need the support of the Labour frontbench to implement Brexit, including the passage of the repeal bill – due to be published on Thursday – that sets out how EU law will be transposed into British law. But government sources said she was also open to hearing the ideas of MPs from other parties about other difficult domestic areas of policy, such as the future of the NHS and social care.