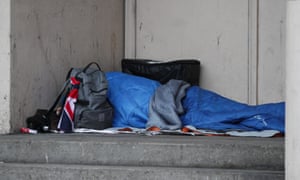 The "hidden crisis" of rural homelessness requires urgent attention from the government, a leading thinktank has said after research revealed a dramatic rise in the number of rough sleepers in countryside areas in the last five years.
The Institute for Public Policy Research warned that it is particularly hard to prevent or relieve because of the difficulties in covering larger areas and the lack of specialist resources compared to cities.
It said the number of people sleeping rough in barns, outhouses and parked cars in rural areas had risen by up to 32% between 2010 and 2016.
The report, Right to home? Rethinking homelessness in rural communities, finds the promotion of the countryside as a "rural idyll" where people go to escape the city and have a better life could "mask" the presence of households at risk of becoming homeless or already without a roof over their heads.
The research – which was commissioned by Hastoe, a leading rural specialist housing association – found that 6,270 households were accepted as homeless in 91 mainly or largely rural local authorities in England in 2015-16, an average of 1.3 in every 1,000 households.
A fifth of all homeless cases occurred outside of England's most urban areas. From 2010 to 2016, "mainly rural" local authorities recorded a 32% rise in cases of homelessness. In areas that are "largely rural" there has been a leap of 52%, and an almost doubling in "urban areas with significant rural" (97%).
IPPR research fellow Charlotte Snelling said a lack of research on the topic prompted them to see whether homelessness actually was a problem. "There is nothing really out there about it," she said. "It isn't really talked about and it's not very visible. But we found that even though you don't actually see it in the same way as homelessness in cities, it is actually quite prevalent.
"In cities, you see people sleeping in shop windows and you don't see that so much in rural areas as there are alternatives which are off the beaten track such as tents in wooded areas and outhouses."
Preventing and relieving homelessness can be especially difficult in rural areas, Snelling said, because of a relative absence of emergency hostels and temporary accommodation, large travel distances with limited public transport, isolated and dispersed communities, and constrained resourcing for specialist services.
Snelling said: "Rural homelessness often goes undetected but that doesn't mean it isn't happening and unless you tackle the difficulties in delivering services in rural areas and finding affordable homes, it will continue to be a problem."