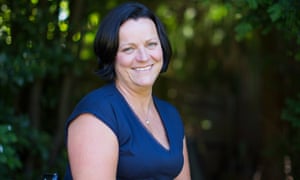 There is nothing about Martine Wright's story that is not extraordinary. The last survivor to be pulled from the wreckage of the 7/7 terror attack at Aldgate that took place 12 years ago, the morning after London celebrated being awarded the 2012 Olympic Games. She remembers seeing one of her legs fused to the ceiling of the tube carriage she was travelling in but, incredibly, went on to make a new life as a double leg amputee, becoming one of the iconic figures of the Paralympic Games.
The 44-year-old is frequently asked whether she would change things if she could. Her answer would surprise most people. "If I could turn back the clock I wouldn't change anything. I mean, I'd really think about it, but seriously – hand on heart – I don't think I would. Because I believe I'm a better person from going through that. I'm more empathetic to people. I'm stronger."
Wright's position challenges conventional thinking around disability, and in particular disability sport as a lesser version of mainstream sport. "I can't believe there are still people out there who think that about Paralympic sport," she says, mystified. Losing both legs is what made Wright a better athlete to represent Great Britain in sitting volleyball. She describes her physical advantage – lightning pace – on the volleyball court. "Without legs my body is able to do something I couldn't have done if I did have legs." It's a powerful inversion of our understanding of sport, a disabled body performing better than an able-bodied person.
Wright's ability to embrace the atrocity that shaped her is evident everywhere you look at her home in Tring. Taking up most of one wall in the family living room is a huge piece of artwork made up of photographs of Aldgate – the tube station where the bombing took place, the Royal London hospital – so how does it feel to be reminded of those memories every day? "I think it's important. This thing didn't just happen to me, it happened to all of us, if that's cathartic to Nick [her photographer husband] I'm proud of that, I'm proud of the emotional journey we've been through together, it's made us who we are today." Her most treasured possession is a photograph of her family cheering her on from the stands at London 2012.
One of the most striking images in Wright's autobiography, Unbroken, published this week, comes in a description of her first visit to a disabled toilet when she notices a pedal bin: "In a disabled toilet, in a hospital, specially designed for people in wheelchairs …"
It is precisely this lack of expertise, she feels, that led to the public spending cuts that hit disabled people hard last year. Wright, even as a double amputee, had to be reassessed. "Just before I went to Rio they were going to take my car, because apparently I can walk 20 metres with my legs on. I get a mobility allowance and the Department for Work and Pensions said everyone had to be reassessed in order to try – and rightly so – to catch the people who abuse the system. I filled out quite a few forms and they sent me a letter back saying I didn't qualify for my disability allowance any 2more."
Wright spent two months trying to get through to case managers in an attempt to appeal against the decision. "At the medical reassessment I rolled through the door and the woman said: 'I don't know why you're here.'" Still, Wright had to fight her case. "Before I went to Rio they tried to pick my car up three times. Literally the day before I went to Rio – as a person with no legs – someone called and said: 'Don't worry we won't take the car.'"
Wright tells the story on behalf of those who are more vulnerable than her. "I know why the government are trying to do it but they're penalising people who have really got a disability, not finding those people who are abusing the system. And it's not just the financial side, it's the emotional and psychological stress. From the feedback I've had, there's a lot of us with a permanent disability who have been questioned. I know there are cases that will be on the cusp but are my legs going to grow back? No they're not. The amount it must have cost [the government] for me to go through my appeal, all it took was a little tickbox to say I'm an amputee. There's no point just doing something and it doesn't work anyway."