We need to challenge the punitive capitalist narrative that only certain categories of people deserve to be able to afford to eat and pay the rent
• Frances Ryan writes the Guardian's Hardworking Britain series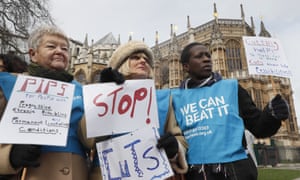 As food and rent prices rise, the government ensures that the income of millions of families shrinks. Watch the Tories announce that they'll hold down teachers' pay for another year, and you could be forgiven for thinking this shameful state of affairs is simply an issue of the public sector pay freeze. In fact, it's just as much the reality of another punitive austerity policy: the freeze on benefits.
Just like the public sector pay freeze, the benefits freeze – which sees benefits capped rather than, as was standard, rise in line with wages – knowingly caps the money the state provides below the rate needed to pay for rent, food, and bills.
Due to run until 2020, the freeze hits many of the key working-age benefits, from child and housing benefit to employment support allowance (ESA) for disabled people too ill to work. It is as damaging as any cap on wages, and is widely recognised as a key driver behind forecasts of rising poverty to come.
The homeless charity Shelter warns that freezing housing benefit will force families to find hundreds of pounds extra every month to avoid eviction, while the Children's Society estimates that more than 7 million children from some of the country's poorest households are affected – losing up to 12% from the real value of their benefits over the next four years.
Yet the public sector pay freeze dominates the headlines, even inspiring Conservative revolt, while there's hardly a whisper about overturning the benefits freeze.