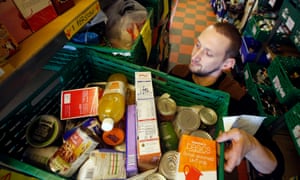 The contrasting fortunes of rich and poor in the decade since the start of the financial crisis are starkly illustrated by a new report showing the young and those renting homes struggling while the top 1% have now recouped all the ground they lost during the world's worst post-second world war slump.
New research from the Resolution Foundation showed that households with incomes of £275,000 or more quickly recovered from the impact of the deep recession and have seen their share of national income return to the level seen before the global banking system froze up in the summer of 2007.
But while the rich have been thriving, the thinktank said the other 99% of UK households had found it more difficult to make ends meet.
It added that the year running up to last month's general election had seen weaker wage growth, higher inflation and frozen welfare benefits and that these offset any gains from rising employment.
Groups that strongly supported Labour in the election – those aged under 35 who have been frozen out of home ownership by low wages and high prices – have fared particularly badly. They are the only group that had so far failed to see incomes return to pre-crisis levels.
The thinktank said the report highlighted a country increasingly divided by age, by housing tenure and by inequality – and that all three factors had been important in the shock election result in which Labour gained 30 seats and deprived the Conservatives of an overall majority.
The foundation added that the surprise was not that the groups faring badly had turned out – both in last year's EU referendum and in the recent general election – to reject the status quo, but that it had taken them so long to do so.