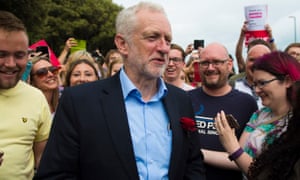 Jeremy Corbyn promised to carry on reminding voters in Conservative marginals that there "is an alternative" as he continued his election-style summer campaign with visits to two Tory-held seats on the south coast on Saturday.
The Labour leader told supporters in Southampton that Theresa May's party should "step aside" for a Labour "government in waiting", while he told fans in Bournemouth that there were "no no-go areas anywhere in the country" for his party.
Corbyn, who spoke for 45 minutes to dozens of supporters at a hotel in the traditional Tory stronghold, joked with supporters who peered through windows from outside – turning to them and saying: "Hello outside, I did not realise you were all out here."
The hotel is in the constituency of Bournemouth West, which has been Conservative since its creation in 1950, but saw a 6.6% swing to Labour that cut the Tory majority almost in half in June.
Corbyn said: "We have got to reach out to everybody all over the whole country, and so this is one of many visits I am making to constituencies – particularly Tory-held marginals, which I think need to be reminded that there is an alternative and that we offer it.
"So I've promised I will visit all 73 of the Tory-held marginals all over the country, and I have got 35 of those planned between now and party conference in September.
"So the election was just a huge dress rehearsal for the next election."
Corbyn spoke at length about a variety of issues including bus and train services, education, music in schools and homelessness.
He also promised he would never use personal abuse and urged Labour supporters not to either.
He said: "I understand some of our national daily newspapers are quite hostile to us … it doesn't bother me because I don't read it.
"They write all this stuff. I will not, and never do, respond to that stuff and I don't use that kind of language about anybody.
"I am not getting in the gutter … we need to set an example of not using personal abuse to anybody at any time, including on social media."
Commenting on his visit to Brussels on Thursday, Corbyn said a Labour government would have a foreign policy based on "human rights, justice, democracy and environmental sustainability".