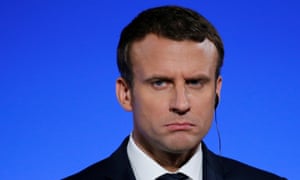 The French president Emmanuel Macron has come under fire for cuts to housing benefits, just as his popularity has dropped in polls.
A row erupted on Monday after the government announced it was going to cut a particular type of housing benefit by five euros a month in a move affecting millions of French people – including many living below the poverty line.
Louis Gallois, head of a federation of organisations working on poverty, slammed the measure for "hitting the poorest people foremost".
More than 800,000 of those affected were students, causing students' unions to demand the government "instantly withdraw" the plans. Disgruntlement among students is a thorny issue because the government is seeking to avoid students joining potential protests against Macron's proposed changes to labour laws this autumn.
The government spokesman Christophe Castaner said the measure was justified because France needed to rein in its public spending and bring down its deficit. The government said the housing benefit cuts had been decided under the previous Socialist president, François Hollande, which Socialist ministers angrily denied.
Opposition politicians accused Macron of targeting the poor and favouring the rich with measures including the loosening France's wealth tax so that it applies only to property, not investments – which Macron has argued will boost the economy. A study last week found that overall the richest 10% of France's households will likely benefit the most from Macron's proposed tax cuts.