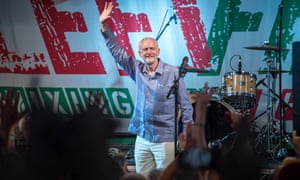 Amid cabinet chaos on Brexit and the debate over whether chlorinated chicken is acceptable, there are three things we are sure of. The Labour party isn't in government; Jeremy Corbyn is not negotiating Brexit; and the Conservatives were the ones who called the EU referendum in the first place. Despite these facts, I have lost count of the hard-line, high-profile remainers describing Corbyn's position as a "betrayal" of the young people who voted for him, an assumption predicated on the fact that the majority of us young people voted remain.
Labour's position is to retain the benefits of the single market and the customs union, but Corbyn has refused to commit the party explicitly to remaining inside the single market. Those describing this "betrayal" – who tend to be middle aged and middle class – are generally either second-guessing how young people feel, or telling us how we should feel: angry at Corbyn.
But above all else, as Momentum's latest video cleverly highlighted, young people are getting a raw deal right now. Yes, many are annoyed about Brexit, but most accept that it's happening: 49% of 18 to 24-year-olds either voted to leave or respect the result of the referendum, compared with 35% who want it overturned. If we include 25 to 49-year-olds, an age group that also saw a massive swing to Labour in the general election, that rises to 55% who voted for Brexit or accept that the result has to be respected, and that the government must now negotiate a departure.