From energy and water bills to exorbitant rail fares, we're all busy lining the pockets of wealthy 'investors'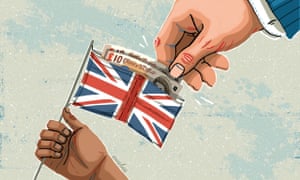 Illustration by Eva Bee
And so to the big question. The one that has dogged us ever since the EU referendum and haunts every Brexiteer's chlorinated daydreams. What is Britain for? Cliche-mongers will tell you that Britain lost an empire then couldn't find a role. They are wrong. After careful study of recent newspaper articles, I have discovered just that new part – and today, dear reader, I am going to share it with you.
The British are now world-beaters at paying other people to rip them off. We are number one at handing over cash to "investors" who do no investing, to "entrepreneurs" who run monopolies – and who then turn around and tap us up for a bit more on the way out.
Consider two stories from the past few days. British Gas announces its electricity prices will rise by 12.5%, starting next month. Just as the cold nights start drawing in, more than 3 million Britons will find their bills are more expensive. Never mind that the competition watchdog judged last year that British Gas and other energy giants were taking well over a billion pounds a year through "excessive prices". This privatised industry has a tradition of ripping off loyal customers to uphold.
Think about the scandal of people having to pay huge ground rents just to stay in their own homes. For years, big property developers have been flogging the freeholds on newly built estates to speculators, often based offshore, whose only relationship with the people living there is to hit them with ever-larger bills. Tens of thousands of families have been bundled up and turned into human revenue streams. Nor are they alone. Whether as taxpayers or consumers, pretty much everyone in Britain is now human feedstock for Big Capital.
This may not be how you see yourself. After all, you're a customer and in our dynamic, choice-stuffed markets the customer is king. Except that the propaganda doesn't match reality. If, like me, you live in London and use water, you are forced to give your business to Thames Water. The same Thames Water that is owned by a consortium of international investors, whose interests were until recently managed by Macquarie, an investment firm with headquarters in Australia. I have reported before on this arrangement, which ran from December 2006 until March of this year. Between 2006 and 2015, Thames Water divvied up £1.6bn in dividends to its small circle of shareholders, who in turn loaded up the company with billions in debt.