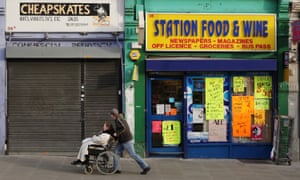 Barely a week after London proudly hosted disabled athletes from around the world, it's emerged that our own government is failing to provide its disabled citizens with something as basic as a wheelchair.
A BuzzFeed News investigation into wheelchair provision on the NHS this week found almost a quarter of people referred by GPs to wheelchair services are not being given any equipment at all. It also uncovered an extreme "postcode lottery": in some parts of the UK, disabled people are provided with the right chair, but in others, three-quarters of those referred are offered nothing by wheelchair services. On top of this, it confirmed there are huge delays in disabled people getting help: 96% of areas are missing their target to supply all wheelchairs within the 18 weeks guaranteed by the NHS constitution. That's paraplegics stuck in bed as they wait for a wheelchair, and disabled children left using unsafe equipment.
This is a scandal that's largely been hidden from the public eye. Unlike other health services, there's long been a stark lack of transparency and accountability when it comes to wheelchairs on the NHS: there aren't national eligibility criteria for receiving mobility equipment – which only encourages that postcode lottery – and until 2015 there was no centrally gathered data on wheelchair services across the country. Anecdotally, as public service cuts have deepened, disabled people are reporting that it is increasingly hard to access a wheelchair on the NHS.
Over the past year, readers have told me about how – rejected by NHS wheelchair services – they've incurred permanent injuries after being forced to buy a cheap chair off the internet, or become housebound because, with no way to afford a wheelchair, they physically can't get outside. This is the definition of a nation's hidden shame: disabled people literally trapped behind closed doors.
Press further into the story and you find that even when it appears disabled people are being helped, the system is often still leaving them stranded. Some clinical commissioning groups (CCGs) – the local GP-led services that determine the policy and budgets for wheelchairs – will only provide a basic wheelchair, rather than one that's suitable and safe for an individual's disability (when it comes to wheelchairs, one size does not fit all). Other CCGs offer vouchers towards a better chair, but many don't, or will only do this for certain brands of chair.
This all adds up to thousands of families being expected to find anything between £2,000 and £25,000 themselves for a wheelchair. That would be impossible for most people, but it's particularly grim to ask it of people with disabilities or ill health. Disabled people are more likely to be in poverty than the general population, and at the same time are already dealing with extortionate living costs (the disability charity Scope found in 2014 that disabled people pay on average £550 extra a month).