Report reveals leaked transcripts of phone call between US and Mexican presidents, in which Trump begs Peña Nieto not to tell press he won't pay for wall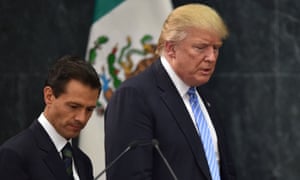 Donald Trump also offered military aid to Mexico to deal with drug cartels, an offer first reported in February. Photograph: Yuri Cortez/AFP/Getty Images
Donald Trump suggested his demand for payment for a border wall with Mexico was merely a political ploy, and told Mexico's president his refusal to pay should not be mentioned in public.
The news opened Trump to charges of hypocrisy and letting down his support base. A border wall paid for by Mexico was Trump's signature issue in his run for the White House, as crowds at campaign rallies joined call-and-response routines and Trump railed against undocumented Mexican migrants for what he said was their predilection for crime.
But in a phone conversation with Enrique Peña Nieto on 27 January, a week after Trump's inauguration as president, Trump said: "From an economic issue, it is the least important thing we were talking about."
He added: "Psychologically, it means something."
A White House transcript of the call was published by the Washington Post on Thursday. The Post also published a transcript of Trump's call on 28 January with Malcolm Turnbull, the prime minister of Australia, in which he tried to wriggle out of an Obama-era deal to resettle refugees currently held on Manus Island and Nauru.
Much of the conversation with Peña Nieto focused on Trump's acknowledgment that Mexico would not pay for the wall and his need for Peña Nieto not to say so. The Mexican president had cancelled a planned visit to Washington over the issue.
Trump said: "The fact is we are both in a little bit of a political bind, because I have to have Mexico pay for the wall – I have to."
Referring to the Mexican president's insistence that he would not pay, Trump said: "You cannot say that to the press. The press is going to go with that and I cannot live with that. You cannot say that to the press because I cannot negotiate under those circumstances."