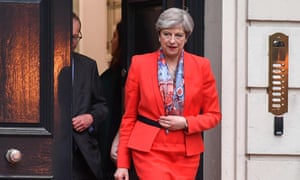 The Tories will lose the next election if they back "unbridled capitalism" and refuse to tax wealth to help the "struggling many", one of Theresa May's former advisers has warned.
Higher tax on sales of expensive homes, more rights for workers and curbs on immigration should all be backed by the Tories if they are to reach the voters who feel abandoned by globalisation, according to Will Tanner, the former deputy head of May's policy unit.
His comments come as other influential Tory figures also express fears that the party's disastrous election campaign will lead it to abandon May's early attempts to intervene in broken markets and consider taxes on the wealthy – moves treated with suspicion by many pro-free-market Tory MPs.
Tanner's intervention, in an article for the Observer, comes after Nick Timothy, May's former chief of staff who quit in the wake of the election, warned that the party would fail if it retreated into its comfort zone. He said the Tories had stumbled at the polls because May's early pledge to take on "untrammelled free markets" had been contradicted by a campaign that was all about continuity.
"If the party retreats to a much more orthodox Conservative proposition, then I worry that won't be sufficient to tackle the big problems that the country has, and in five years' time we do risk the election of a dangerous leftwing alternative," Timothy told the Telegraph.
Writing in today's Observer, Tanner said the election result was evidently "not an endorsement of the way the economy is run. Nor was it a vote for unbridled capitalism, nor a call for a smaller, less interfering state."
"Conservatives can restate the case for markets as much as they like: it will not win the next election," he writes.