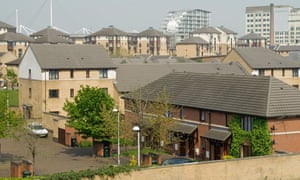 Up to 13,000 landlords in just one London borough have been identified as failing to declare their rental income, prompting estimates that unpaid tax in the capital is costing the public purse nearly £200m.
Newham council in east London, the first to introduce a compulsory borough-wide licensing scheme for landlords in 2013, shared their names and property addresses with HM Revenue & Customs. Newham, which has 27,000 registered landlords, said it understands that 13,000 had not registered for self-assessment, which is generally required if a property owner receives £2,500 a year or more in rent. HMRC would not confirm the figure.
The council estimated that unpaid tax by landlords is costing the public purse nearly £200m in London – and far more nationally.
In a letter sent to the chancellor, Philip Hammond, the mayor of Newham, Sir Robin Wales, said: "It is our understanding that, to date, up to 13,000 Newham landlords are of interest to HMRC, where there are discrepancies between declared income and our records, with potentially significant financial implication for the exchequer."